10 great reasons to buy handmade
Posted on

1. Originality:
You are buying something original, not mass-produced, made by a person not a machine.
2. Thoughtfulness:
When you are buying a gift, you are showing the recipient that you have really thought about them and what they would love; you have found something which is original and just for them; and you can be sure that they won't be receiving the same thing from anybody else.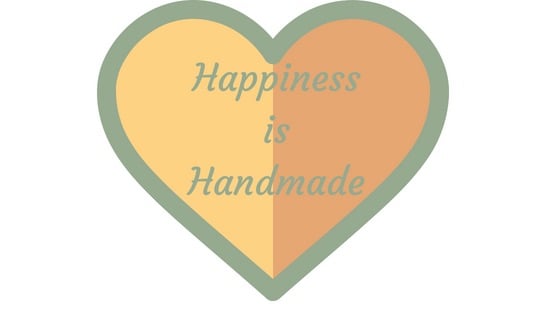 3.Sustainability:
In these days of caring about sustainability, you know EXACTLY where your purchase has come from. You don't have to worry about the working conditions of the person producing it.
4. Support:
You are supporting an individual and not a multi-national company – and you can guarantee that your purchase is going to be a thousand times more appreciated!
5.Quality:
Handmade is made with love, care and thought. Think this is trite? All the makers I know put a maximum amount of effort into making every item to the best of their ability; they take great care to ensure they are producing items of the highest quality; and they have thought about what they are producing and why.
6. Value for money:
If you think handmade is going to be more expensive than the mass-produced, think again. There are very few makers who charge fully for their time; their quality control is likely to be off the scale; and they make their products to be cherished and to last. The price tag may be a little higher, but you will be getting SO much more for your money.
7. Personalisation:
If you see a maker's work and love it, but it's not quite what you are looking for, speak to them. It is likely that they will be happy and able to make a bespoke item JUST for you.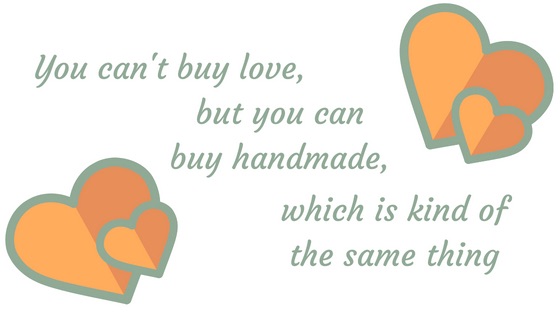 8. Individuality:
Even if you are buying an item which is not a one-off, each one you buy will be individual and slightly different, because they are handmade by a person. Buying handmade also allows you to express YOUR individuality and ensure you stand out from the crowd rather than follow the herd!
9. Story:
Something you have pulled off the shelf in a high street store doesn't have a story behind it, whereas handmade does. If you buy in person you can ask the maker about their process and if you buy online you can read about their inspiring story.
10. Ease of purchase:
When you are looking for a gorgeous product, either for yourself, your home or for a gift, why not turn to Etsy, Folksy or Not on the High Street rather than other well-known websites? The sellers' terms and conditions are all there to see and it can take no more effort than a few clicks on the keyboard. Alternatively shopping at quality craft fairs and handmade shops is infinitely more pleasurable than fighting your way down the high street in your local town.
Why not pop over to my shop to see the handmade items I carefully make or follow my Facebook page to see my new products and those of the makers I love?