A quick guide to buying handmade and/or local this Christmas
Posted on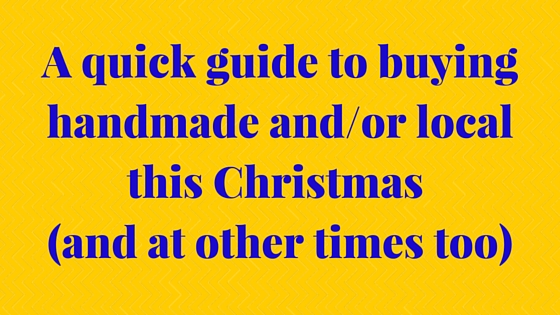 If you have liked my page on Facebook, you will have seen that I have recently been posting quotes about buying handmade and local this Christmas. This is, perhaps, not surprising, given that I am a maker of products myself. It is all very well posting these entreaties, but I also want to give a few pointers about how best to achieve this.
Christmas, whether we like it or not, has become more and more commercial and we now have lots and lots of presents to buy. However, we do all have a choice of where we buy our presents. We can do the same thing we always do and head the well-trodden path to the high street or to the big internet stores (I don't need to name names for you to know who I mean). Alternatively we can choose to buy handmade and/or local.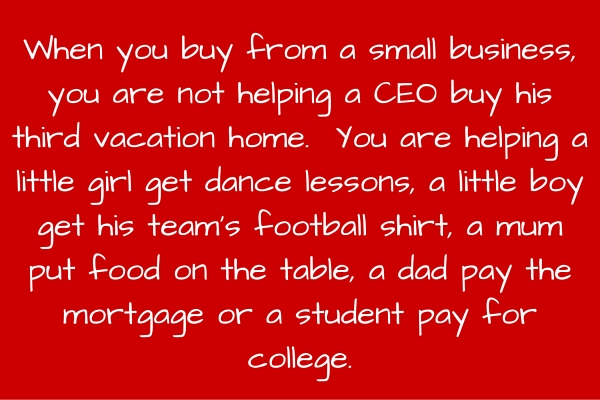 Why bother? Well your £20, £50 or £100 spend could make a BIG difference to the Christmas of the person you are buying from. For multi-national companies that kind of spend is a drop in the ocean and they are not going to notice that you haven't purchased from them. For a local craftsperson, it could be the difference between a very low key Christmas and a great one for them and their family. Many of the craftspeople I know are mothers who want to be at home but want to make a bit of money for family treats (or even necessities). They are all independent, talented individuals making products which they are passionate about.
What's in it for you? A very good reason is that you will find something completely different and original which is going to be appreciated by the recipient of your gift. It won't be something they spotted on the shelf of the department store last week. It will be something made with great care and attention to detail by a human being, not something churned out by a machine.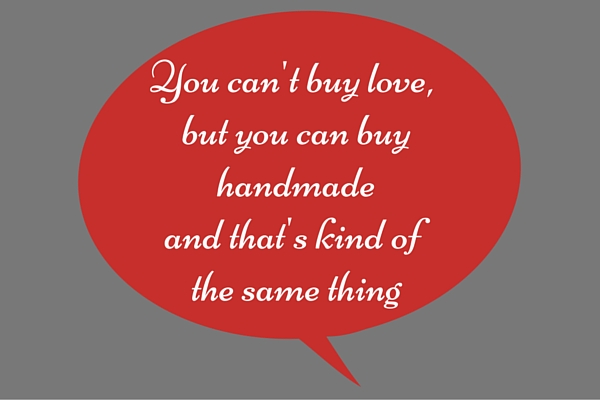 I am a realist. If you have promised your child a PS4, handcrafted and local just isn't going to cut it. However, if you are also doing a stocking for them too, why not fill it with a few beautifully made products which are handmade; or choose handmade and local for your Mum and sister instead?
Local craft fairs
The best way to buy handmade AND local is to visit one or Christmas craft fairs in your area. At this time of year there are plenty to choose from, varying from small events in school halls to huge ones held at stately homes.
There is, however, no guarantee that everything at these fairs will be handmade. I regularly attend a fair at Royston which only allows people who hand-make their own products, but I also attend other fairs which allow people who sell bought-in products. The best thing to do, therefore, is to ask! Crafters will be very happy to talk about their products and will be very proud to tell you they make their products themselves.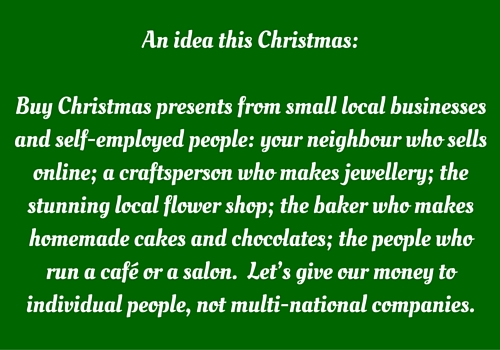 Local craft shops
If you are lucky enough to have a local shop (like No3. Royston) which sells handmade products, start there. They usually have a wide range of products, so you will find a very wide choice and are bound to find something you like, from home decor to teddy bears (ensure they are CE tested) to delicious foodie products. The best thing about these products is that you would find the same thing all over the high street.
Buying at craft fairs and in local shops selling handmade products gives you the opportunity to look closely before you buy and even to pick up and handle products to assure yourself of their quality.
On the Internet
Do you prefer to do your Christmas shopping online nowadays to avoid the crush in the shops? Well, you don't have to turn to the same old websites. Those I am suggesting accept Paypal, so you don't need to worry about security of your bank details either.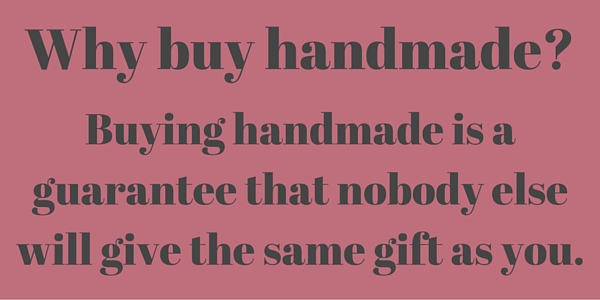 Etsy (www.etsy.com)
Etsy is an international forum, so if you want to keep it local (and be sure it arrives before Christmas) make sure you check the seller is in the UK.
Etsy sells three categories of things (handmade, vintage and crafting products), but there has been criticism of late that not everything is handmade. Just check the description to make sure it is what it appears to be (makers should be shouting about the fact their products are handmade).
You will find beautiful and quirky things that you may not even have thought about. I have not one but two different dachshund fans in my family and there is everything from pendants to rolling pins and even flip-flops with a dachshund theme.
Folksy (www.folksy.com)
Folksy sells handcrafted items and craft supplies but, unlike, Etsy, is UK based with UK only sellers. Don't be put-off by the name, the products are not necessarily 'folksy' in design.
Like etsy you will find all sorts of beautiful and unusual products and will find something original and very personal for the special people in your life.
Normally, if you buy from Etsy or Folksy you can return items, as long as they have not been custom made or personalised for you. You can check out the returns policy on each listing to give you security to buy with confidence.
So this Christmas, why not buy handmade and make everybody's Christmas AMAZING!